THE POMERANIAN GIRLS *****ONE GIRLS STILL FOR SALE SEE BETTY****
Only One female left for sale see Betty Boop Below..she is awesome!
SOLD!!PEARL MOONS BEAUTIFUL BIANCA (BIANCA). 15 Champions on her 5 generation pedigree, including 3 #1 A.S. Silver Meadow, Lennis, Sun-Dot, Nabob and Wee Heart Bloodlines. 5 pounds. See her little girl for sale sired by Max. FOR SALE $650.00 Problem Free Whelper!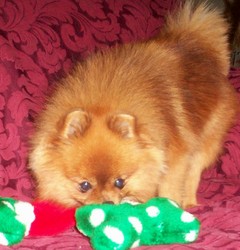 SOLD!!!!DOJO'S FELICITY (RUBY). 46 Champions on her 6 generation pedigree. Millimor, Emcee and Sun-Dot bloodlines. 4.1 pounds. FOR SALE $450.00 Problem Free whelper!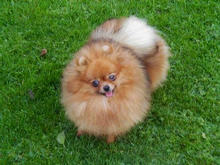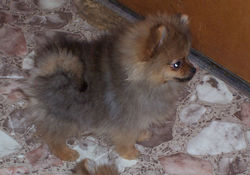 FOR SALE!!!FRONT PAGE BETTY BOOP:  Born 12/10/07, our new show hopeful for 2007 out of Cutter and Bianca.  Over 44 Champions in the pedigree. Problem free whelper $1200.00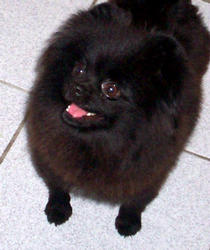 HEIDI SPORTING A SUMMER CUT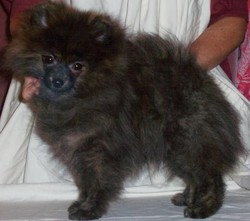 PAISLEY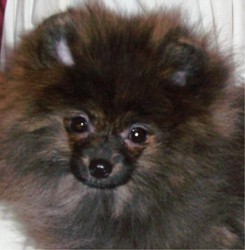 SOLD!!!THIS IS PAISLEY, SHE JUST TURNED A YEAR OLD AND HAS THE MOST BEAUTIFUL BRINDLE COLOR. TO TOP IT OFF SHE IS CHAMPION SIRED AND HER MOTHER IS ALSO A CHAMPION WITH AN IMPRESSIVE PEDIGREE. SHE WEIGHS 5 1/2 POUNDS. WE'D LIKE TO THANK LORI SOLOMAN FOR ALLOWING HER TO COME LIVE WITH US. PAISLEY HAS FINISHED HANDLING CLASSES AND WE PLAN TO BREED HER TO MAX IN THE FUTURE. FOR SALE $1000.00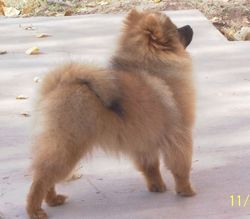 FRONT PAGE CHIPMUNK:  SOLD(CUTTER X RUBY)   PICTURED AT 5 MO OLD GOING THRU HER PUPPY UGLIES.  SHE IS RUBY, CREIDER, MILLAMOR AND EMCEE BLOODLINES, 55 CHAMPIONS IN 6 GENERATIONS. FOR SALE $700.00 NEVER BRED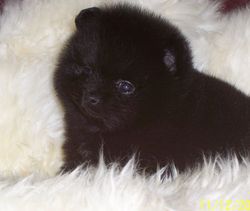 SOLD!!FRONT PAGE LILLY: (MAX X BIANCA) PICTURES AT 5 WEEKS. LILLY WILL BE STAYING HER WITH US BUT HER LITTERMATE SISTER IS FOR SALE, SEE THE GIRL FOR SALE PAGE. OVER 50 CHAMPIONS IN THE HER 5 GENERATION PEDIGREE. CREIDER, SUN-DOT AND QUEENAIRE BLOODLINES. $1500.00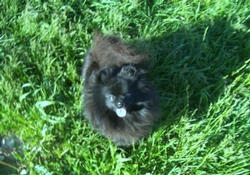 SOLD!! GRANDAIRE's LICORICE (HEIDI), Grandaire, Sun-Ray and Pombreden Bloodlines.  4.0 pounds.  Heidi is bred to Rocky due in Jan 08.  Merles projected.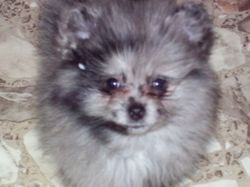 SOLD!!!FRONT PAGE GLORIA (ROCKY x PITA) very nice blue merle female. Four pounds never bred. $750.00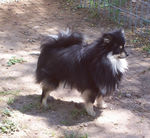 SOLD!!! FRONTPAGE PITA (Bear x Peaches)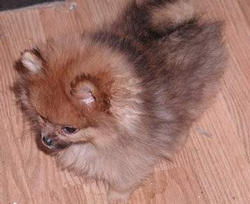 SOLD!!!Allayn's Roxy: Pictured at 14 weeks. Orange Sable, We are very pleased to add this little girl to our kennel. She is sired by BISS Ch Amce's Consider It Done, a son of of BISA BISS CH Puf-Pride Sweet Dreams, Top Winning Pom in history. Her mom is Champion sired by CH Puf-Pride's Milliondollar Baby. Other bloodlines include Great Elms, Starfire, Emcee. 30 Champions in her first 5 generations. $2500.00