FOR SALE
FOR SALE GIRLS. KEEP CHECKING BACK AS NEW PUPPIES WILL BE LISTED AS THEY BECOME AVILABLE!!! $250.00 DEPOSIT TO HOLD. PLEASE VISIT OUR PAST PUPPY PAGE TO SEE THE QUALITY WE PRODUCE AND HAVE SOLD!
SOLD!!! Female, Sable 6 weeks, Pic taken 11/18/2007: Sire is Max (see boy page). Max has 35 champions on his pedigree and is champion pointed. Dam is Bianca (see girl page). Bianca has 15 Champions on her pedigree. Many HOF, ROM and ROMX. beautiful female with tons of coat and show potential. $1500.00 Will be ready to ship 12/14/07.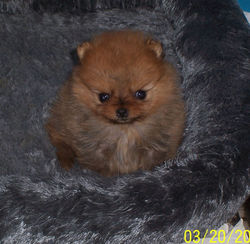 Front Page Itsy Bitsy: Pictured above. BITSY IS SOLD TO LAURIE. Cutter/Heidi, pictured at 6 weeks. This little girl will need to go to a very special home when she is old enough. At 6 weeks she only weighs 15 oz. I call her my special needs child as she has been a bottle baby since 2 weeks old. She will only be sold with Limited AKC papers as she will be way too small to breed. She will need to go to a home with no small children due to her estimated adult size of 3 pounds. She is a living doll with a personality to match. You just can't get cuter than this little girl. Baby doll face and lots of coat. Tiny ears and short nose.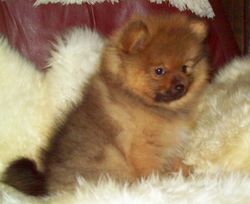 Sold Picture above left and right are littermate sisters born 4/16/2008. These little girls have a combination of the best breeding in my kennel. Tons of coat and bone with short little nose. Projected adult weight 4.5 to 5 pounds. She is sired by Max, pictured on the foundation boys page, who is Champion pointed and mom is Bugger Butt who can be seen on the foundation girl's page. Their pedigree is who's who in the pomeranian show ring. Champion Bloodline is Creider, Ruby, Queenaire and Sun-Dot. 850.00 is for AKC Limited Registration. Full Breeding rights they are 1250.00 to select breeding home. Shipping approx 275.oo depending on the airline. Take a look at their littermate brother who is also for sale. Serious inquires only please.
Sample Photo 5
Brief Description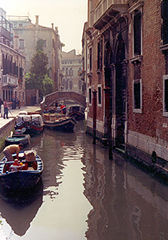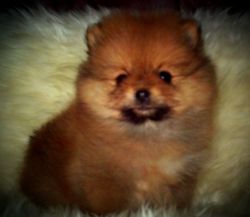 PICTURED ABOVE AND BELOW. SOLD TO KATHIE!! DEBBIE, FEMALE, DOB 1/23/08. MOM IS RUBY (CAN BE SEEN ON FOUNDATION GIRL'S PAGE), SIRE IS MAX (FOUNDATION BOY'S PAGE). VERY NICE PUP. SIRE IS CHAMPION POINTED. BLOODLINES INCLUDE QUEENAIRE, RUBY, CREDIER AND MILLIMOR. PEDIGREE FULL OF CHAMPIONS AND MANY ROMS. ACCORDING TO BIRTH WEIGHT ONE GIRL SHOULD MATURE 5.5 POUNDS. $1250.00 EMAIL IF YOU'D LIKE ANY MORE INFO OR PICTURES.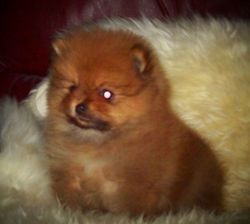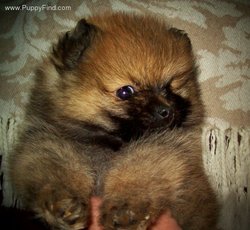 Pending Sold This is Beautiful Bella. Pic at 9 weeks. Sire is Cutter and Dam is Bianca. This is a repeat breeding take a look at Betty, Adventure and Jackson, who are her full sisters/brothers that are now 2 years old. This little girl is stunning and is everything she should be, Over 77 Champions in the 6 generation pedigree. Bloodlines are Creider and Ruby. $1500.00