FOR SALE BOYS
Current listing of our boys for sale. Keeping checking back as new puppies are added as they become available!!! Deposit are 250.00 to Hold. Please visit our past puppies to see an example of the quality we produce that have already sold.
SOLD TO TAMI/TEXAS. Blue Merle Boy, Born 11/17/2007. Pic at 11 weeks. Sire is Rocky (Can be seen on the boys site) and Mom is Pita (seen on girls page). This little boy is marked beautifully. Should have blue eyes when they open. Many Champions in the pedigree.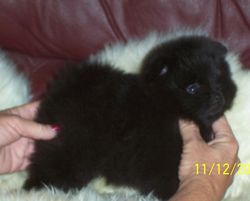 SOLD to Connie/New York!!!!!! Black Male born 10/4/07, Sire is Max, Mom is Bianca, see more info on the foundation boy/girl pages. $1200.00
I have two litters born in March 2009 that will be ready soon. All Boys. First litter is out of Ruby and Cutter, 2 dark red boys. Second litter is Pita and Adventure, 1 sable and one orange boys. Look for pictures soon.